This is a guest post written by Lori McCarthy of Don't Panic Labs. You can learn more about Don't Panic Labs here.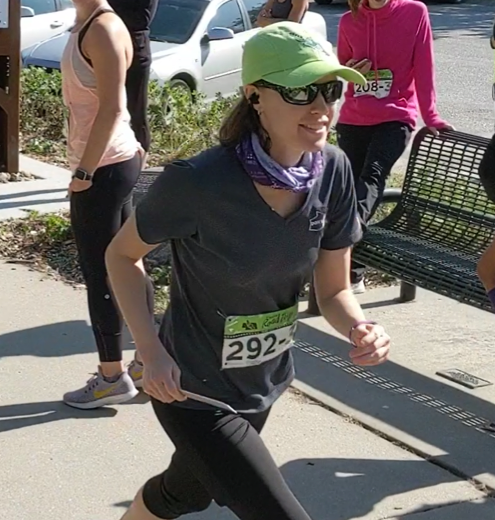 I guess I'm a runner now.

Jan. 23rd, 2019 6:00 am. Lincoln, NE. It's pitch black, 4 degrees, -8 windchill. I have my shoes, socks, tights, wind pants, base layer, pullover, jacket, stocking cap, balaclava, gloves, and headlight on and three miles on my mind. I guess I'm a runner now.
Getting Started
While driving from Lincoln to Kansas City two Christmases ago, I mentioned to my husband Johnny that I'd like to be more fit, more in shape. I had no idea where to start; "fitness" just really hasn't been a big priority for me. On the other hand, Johnny runs a lot. I've always thought he was a little crazy — what with the running in Sub-Zero or 100+ degrees.
As some people know, many of my coworkers at Don't Panic Labs are avid and consistent runners. It's an activity that is quite difficult to avoid as those who run also love recruiting more people to join them either early in the morning or over the noon hour. So the idea of getting some extra activity had been subtly invading my brain.
What follows is my first 21 months of doing something I never thought I would enjoy: running.
My First Year
As we celebrated the start of 2018, I began my running journey. Johnny and I agreed that a good place to start would be for me to get a YMCA membership and do some treadmill running and a few strength training exercises. I started with ½ miles on the treadmill, but slowly ramped up my distance once I discovered that I could watch Netflix on the treadmill — that was a life changer!
When spring arrived, I tried a few outside runs. I was surprised to discover that my throat didn't hurt while running anymore — probably because I was in better shape and breathing more efficiently. I used to honestly believe I might be "allergic to running" since it would hurt my throat so badly. I discovered that I now enjoyed 1 ½-2-mile runs, but I was not really willing to invest more than 20 minutes per day.
Once I had a taste for outdoor running, I had no desire to go back to the treadmill. I couldn't watch Netflix, but the library makes it easy to consume loads of audiobooks (see below for a few of my favorites).
As summer came around, I shifted my runs to the morning. This, too, was a life changer, mostly because I have never been a "morning person." The thought of getting up early to run, of all things, had always seemed ridiculous to me. Yet here I was, waking at 5:45 am to go for my morning run. This had the extra benefit of not requiring another shower time in my day. And I really enjoyed seeing the beautiful sunrises. Not to mention avoiding the afternoon heat!
In August 2018, I registered for my first run: the 4th Annual Run for Thomas. Friends of ours started this run after losing their first son to MCADD, and Johnny had run in the race in previous years. Now that we had Owen (our three-year-old) in tow, we couldn't both run. It was my turn to give it a go.
As I left the starting line, I tailed two middle school boys for a bit, but then they fell away before the uphill climb, and suddenly it was just me and one guy ahead of me. I could hear footsteps behind me, so I knew I didn't have a large lead. So I ran as fast as my feet would allow, gaining a cramp about halfway through. And still, I ran straight through to the finish line to win (the first female) in my first race!
At this point, people began asking me what race I would run next or "what are you training for?". But once again, I couldn't imagine why someone would want to run a race, especially when they had little chance of winning.
Earlier that month, Runkeeper had presented me with a challenge: run ten days in a row and be entered to win a prize. I always say you have to be in it to win it, so I ran those ten days. And then I kept running every day, eventually creating my first streak — 32 days in a row to celebrate my 32nd birthday.
As fall came around, I enjoyed the opportunity to buy new running Capris and kept on running.
And as winter set in, I got to buy even MORE gear: fleece-lined tights, a running mask, gloves, and my own running jacket so I would stop borrowing Johnny's.
My Second Year
In January 2019, I joined my first fitness challenge — Lincoln Running Company's Launch Your Toughness. We were encouraged to run outside every day. And there were prizes if we tracked our having done so in their spreadsheet.
I ran every day but one. During this challenge I discovered I could run in cold and wind and stay mostly comfortable (with the right gear). The one thing I couldn't control was ice. So, one day I gave myself a pass and decided to play it safe indoors. But I picked it up the next day and started a new streak on January 23rd.
And I've run every day between then and now (as of October 2019). Nine months in, and we'll just have to see where I go from here.
I still feel the same way about 4+ mile runs as I used to feel about running in general — I can't fathom why people enjoy them or why they want to devote so much time to running. But maybe someday my view will change.
What I Like Best about Running
Here are a few more of my favorite benefits of running:
Feeling "In-Shape" and being able to keep up with my 3 1/2-year-old
Eating extra calories without guilt
Multi-tasking 1-on-1 discussions

Whenever possible, I like to go out for a run during my 1-on-1 discussions with my coworkers at Don't Panic Labs. This is a great way to get in a workout while catching up on work, life, and whatever is on our minds.

Extra time to read audiobooks

In 2018, I tracked 94 hours in Runkeeper; this year I'm already at 131 hours – that's a lot of audiobook time!

I especially enjoy reading about running while running. Over the past year, I've enjoyed the following books about running:

Running while on vacation gives me a chance to get a different feel for a place than I otherwise might
A chance to see some gorgeous sunrises (a great side effect of running early in the morning)

Looking Ahead
The other day I was chatting with a friend while she gardened, and she said how much she enjoys it. I told her I feel the same way about gardening as I used to about running — I can't imagine why it would be fun. But who knows, maybe someday I'll learn to like gardening too.
So for now I run. Every day. But ideally not more than three or so miles. Except when my friends and co-workers convince me to run the Market to Market Relay — for that race I had to "turn on my jets" (to quote my three-year-old) three times in one day. And I was honestly surprised at how much fun it was! You never know until you try.