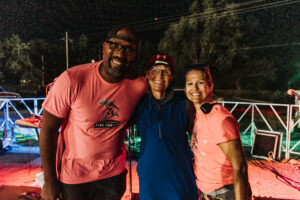 Fast, Flat and in the Dark
We all know this race as Harvest Moon Hustle, but if you aren't familiar with the tagline Fast, Flat, and in the Dark, let me tell you what it means to me, as the Race Director!
Fast –
This race sells out FAST, in hours, sometimes minutes.
We cap this race at 1450 runners, so this incredibly FAST course doesn't get congested.
The course male course record is 32 minutes and 53 seconds, set by Luka Thor. Luka holds the top 3 fastest times on this course.  Talk about FAST!
The course female record is 38 minutes and 02 seconds, set by Haylee Sutter. Haylee holds the top 2 fastest female times on this course records, this lady is FAST!
Our team sets up and tears down this event FAST! 40 hours from the first truck arriving in Elmwood to the last vehicle to leave Friday Night.
Flat –
The course is so FLAT! The Mopac trail is absolutely gorgeous and we are so grateful to our partners for their support and allowing us to showcase this trail.  Thank You Village of Elmwood, Lower Platte South NRD, and Cass County.
This is FLAT out the most fun you will have running on a Friday Night! Don't take my word for it, check out our facebook reviews!
Our Golden Road Mango Cart Beer and Pepsi Cola is NOT FLAT!!
In the Dark –
With the race starting at 7pm, the runner head lamps headed back to Elmwood on the trail IN THE DARK, make this trail run a spectacular site.
Elmwood's rural location allows us to see the Harvest Moon IN THE DARK from the park, trail and after party.
Our After Party IN THE DARK, is something special…with live music, twinkle lights surrounding the perimeter of the party and burst of flash from our photographers.
If you ran the 2022 Harvest Moon Hustle Powered by Blue Cross and Blue Shield of Nebraska, Thank You!  If you didn't, RSPV for 2023 at harvestmoonhustle.com or and mark your calendars. Registration for the 2023 BRIN Running Series is on Black Friday: November 25, 2022!
See you at the next Pink Gorilla Event!
Linda Brown – Harvest Moon Hustle Race Director