Since 2015, All That Remains is Love's team captain, Angie Matsen has run under a different team name with her friend Melissa Kuhn. The team always enjoyed the day, the prep, the run… but that's not why they did it. They did it for Mel.
When Mel was diagnosed with cancer, it wasn't so much that she decided not to let it define her, there was just already too much to her for cancer to have such a big part of her story. A mother of two boys, a devoted wife, an accomplished co-worker, and an inspiration to anyone who met her and her indomitable light.
They ran their first Market to Market to celebrate one-year cancer free. These 75 miles were nothing compared to what she had already conquered, and so she grabbed a few members of the team that brought her to this side of cancer, and together they crossed their first M2M finish line.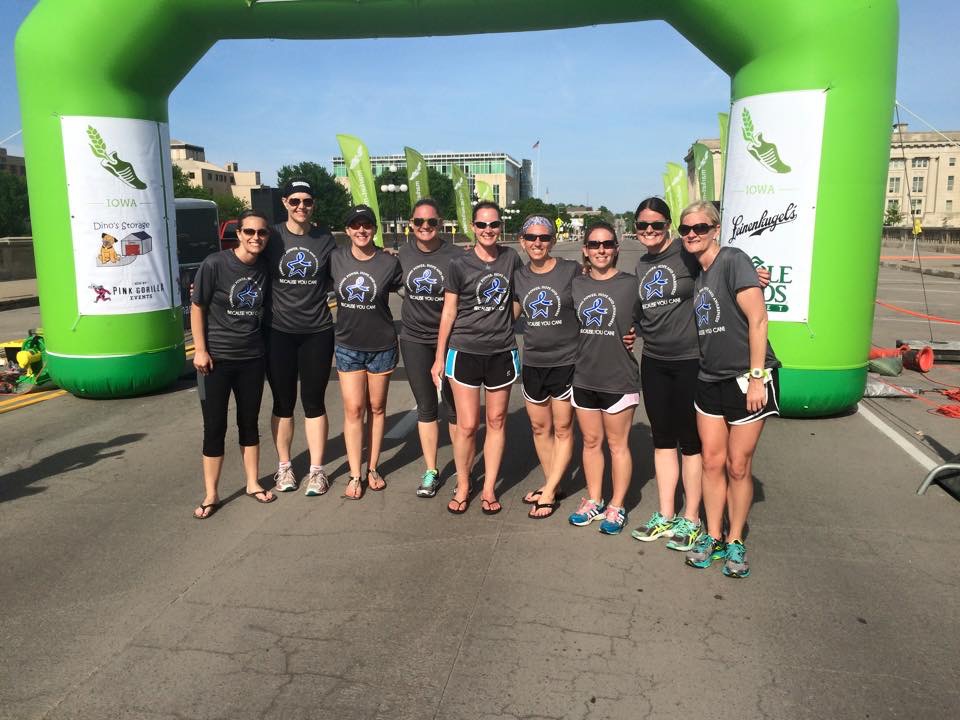 When the cancer returned, she didn't see it as a defeat.
She took her diagnosis in stride, and the team ran under the cheeky name "Cancer Sucks Ass" to poke a little fun at, while bringing awareness to, Mel's diagnosis of an under-researched rectal cancer. They found even cheekier costumes, donning plastic butts for last year's run.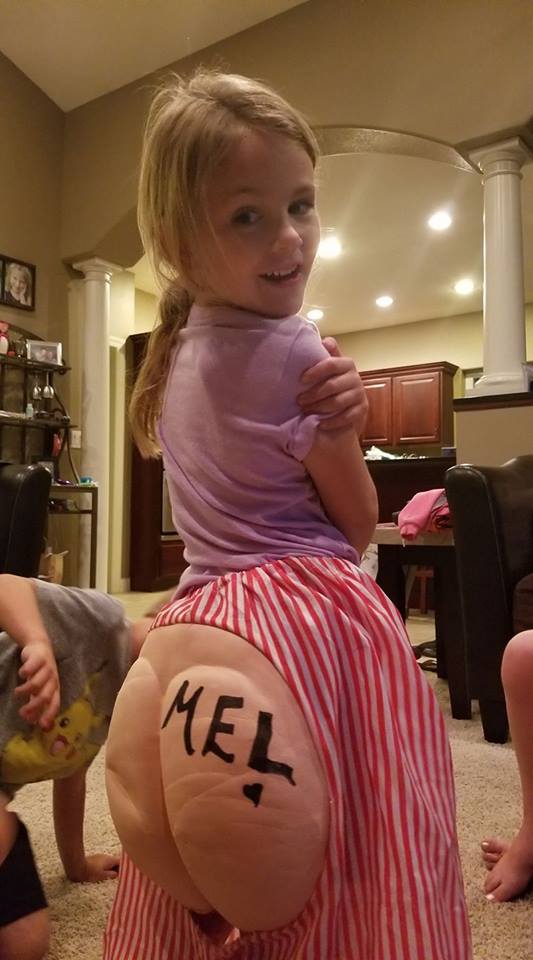 As she continued to inspire others with her journey and her fight, her team blossomed into 3. One comprised of the original team and family members, a framily team — friends who had become so close they became family, and her work family, many of whom were running for the first time.
Her strength and fortitude in the face of something so seemingly insurmountable led to her being awarded the Jaxon Havlicek True Strength Award from Midwest Extreme Tri Club. She became the 2016 Ovation Award recipient for the Iowa Women's Foundation. In 2017, she received the Waypoint Women of Achievement and Leadership Award.
As her cancer began to overtake her body, she ran fewer and fewer miles, but it never touched her sense of humor, her spirit, or her love of life. Even as she watched it slipping away from her, she embraced it and the lessons she was able to learn, and to teach, with the time she had left.
She maintained a blog with a goal of teaching people how to embrace change: believe in your journey, trust your instincts, live each day to the best of your abilities, and live your life with empathy and gratitude every day. "We all have two lives," she quoted, "and the second one begins when we realize we only have one."
In September, Melissa's mother Mary opened her blog to announce to her loved ones that Mel had passed away, and she found an unexpected entry. A half-written note from Mel titled "My Last Post". Her daughter had written: All that remains is Love.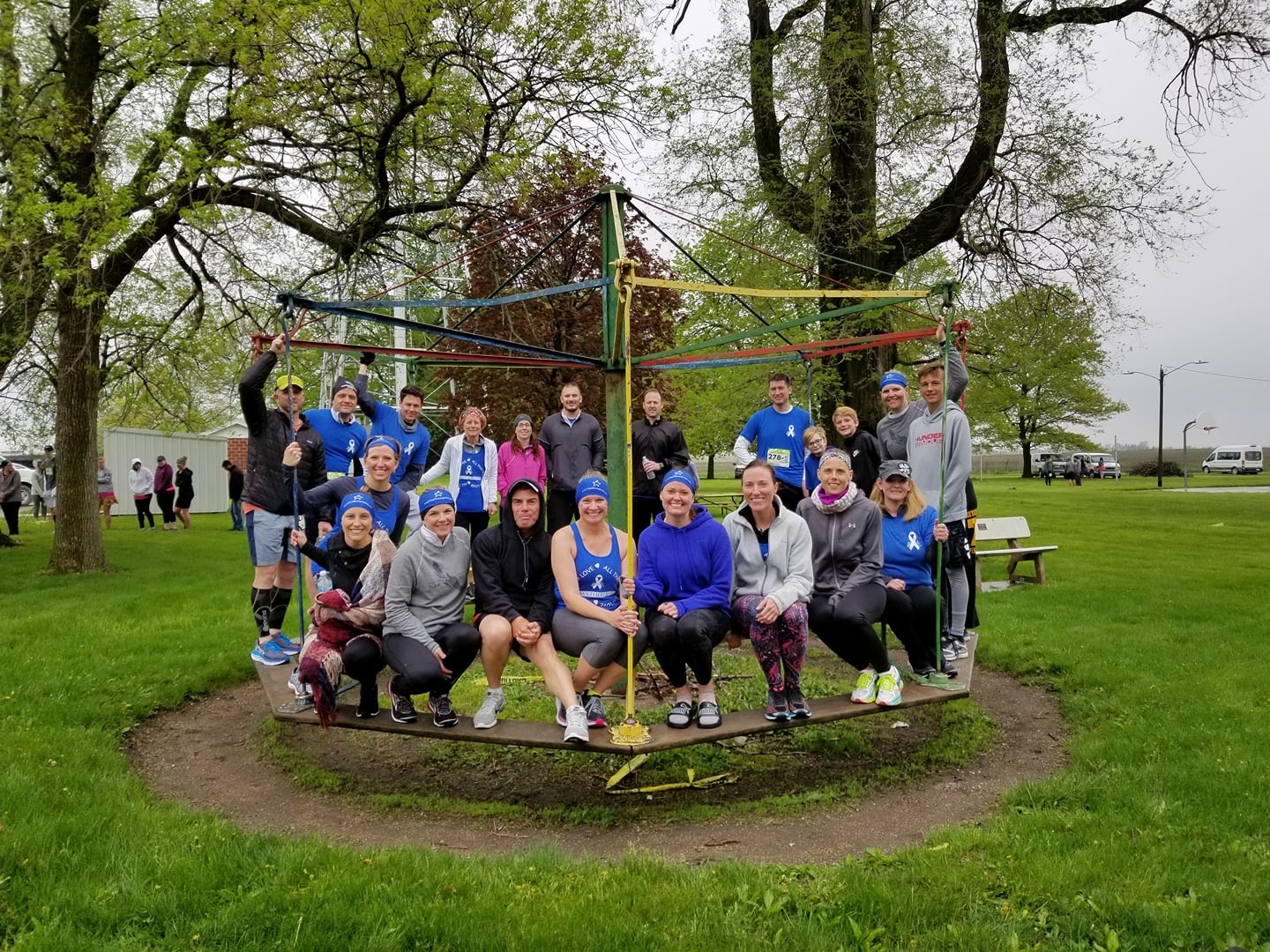 The teams adjusted their name to reflect what Mel gave them before she left. They grieve every holiday, baseball game, track meet, and mile they have to continue without her there to cheer them on, but they celebrate all that she left for them. Hope. Peace. And everything that remains.
Angie reflected on this year's event, their first Market to Market without Mel.
"Her 14-year-old son ran with us this year. Hayden runs cross country, and this year, he and 2 of his friends took a few of the legs. He knew how much this always meant to his mom, and he really took the time and enjoyed everything. The costumes, the energy, the exchange points. This was more than a run. It was support, it was being a part of something much greater, togetherness and love. I'm sure these guys will do this race again. We all started this as a way to support Mel. Now we do it for her, and for each other."
Melissa's son Hayden handing the baton to her father, Vern
"It was cold this year, which is what you want when you're going to be running, but it was supposed to rain. We've run through all kinds of weather, even one year when they had to delay the whole event for lightning, we weren't looking forward to being cold and wet. But it didn't happen. It held off. We all finished our legs, crossed the finish line, got on stage and took photos, and even had time to celebrate before the rain came. The weather was so perfect… and we all knew we had our little angel looking out for us that day. Always."
Mel made the decision to donate her corneas, and she continues to see life through a new perspective. When you consider how she lived, it can't surprise you to learn that she continues to give everything she can to help others to see the beauty in living, every day. And while she sees, the cancer is gone. The pain is gone. All that remains, is love.